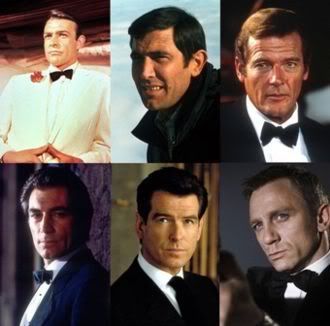 James Bond 007
merupakan kisah agen mata - mata, sosok karakter khayalan yang dibuat pada tahun 1953 oleh penulis
Ian Lancaster Fleming
yang telah menelurkan 12 novel dan 2 cerita pendek koleksi nya. Fleming lahir tanggal 28 Mei 1908 di MayFair, London - Inggris. Dia merupakan seorang pengarang, jurnalis, dan pemimpin angkatan laut pada perang dunia kedua. Fleming meninggal usia ke 56 tahun atau tepat nya 12 Agustus 1964.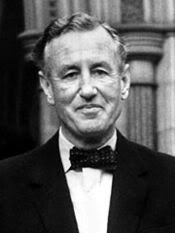 Setelah Fleming meninggal pada tahun 1964, kelanjutan novel James Bond ditulis oleh Kingsley Amis, John Pearson, John Gardner, dan Raymond Benson.
Novel tentang James Bond tersebut digarap oleh EON production, kini EON telah merilis 21 rangkaian film antara tahun 1962 - 2006 dan pada bulan November 2008 film ke 22 dengan judul Quantum of Solace akan tayang di bioskop seluruh dunia.
Perusahaan keluarga Broccoli dan Saltzman, Danjaq telah memegang kepemilikan film seri James Bond melalui EON production dan bekerjasama oleh United Artist sejak pertengahan 1970an.
Berikut perusahaan yang mendistribusikan film James Bond :
Dr No ( 1962 ) - For Your Eyes Only ( 1981 ) di distribusikan oleh United Artist.
tahun 1981 hingga 1995 didistribusikan oleh MGM/UA Enterteinment.
MGM mendistribusikan 3 film dari tahun 1997 hingga 2002
tahun 2006, Casion Royale didistribusikan oleh MGM dan Columbia Picture

Quantum of Solace
adalah sebuah judul cerita pendek dalam antologi For Eyes Only karya Ian Fleming pada tahun 1960 an. Daniel Craig akan mengulang peran utama sebagai agen rahasia 007, yang sempat terkenal setelah debut nya pada film Casino Royale tahun 2006. Film ini nanti nya akan menampilkan bintang baru dari Inggris, Gemma Arterton sebagai agen rahasia wanita. Sang produser film Barbara Broccoli menyatakan film tersebut tak hanya film balas dendam, namun lebih rumit. Ada banyak adegan perkelahian dan tentang gejolak jiwa James Bond.
Quantum of Solace trailer :
James Bond on ITV NEWS :

Cast Quantum of Solace
Daniel Craig as James Bond


also starring



Mathieu Amalric as Dominic Greene
Olga Kurylenko as Camille
Gemma Arterton as MI6 Agent Fields
Judi Dench as M
Anatole Taubman as Elvis
Joaquin Cosío as General Medrano
Jeffrey Wright as Felix Leiter
Giancarlo Giannini as René Mathis
Neil Jackson as Mr. Slate
Jesper Christensen as Mr. White
Rory Kinnear as Bill Tanner
Tim Pigott-Smith as the British Foreign Secretary
Simon Kassianides as Yusef
Stana Katic as Corinne Veneau
David Harbour as Gregg Beam
Glenn Foster as Henry Mitchell

Directed by Marc Forster
Produced by Michael G. Wilson, Barbara Broccoli
Novel/Story by Michael G. Wilson
Screenplay by Joshua Zetumer, Paul Haggis, Neal Purvis, Robert Wade
Cinematography by Roberto Schaefer
Music by David Arnold
Editing by Matt Chesse, Rick Pearson
Distributed by Metro-Goldwyn-Mayer, Columbia Pictures
Released on 31 October 2008 (UK), 7 November 2008 (NA),27 November 2008 (AUS)
Budget £113.4 million (US$224.87 million)
Preceded by Casino Royale (2006)
Followed byBond 23 (2010)
The Composer music of James Bond Film
No | Film | Year | Composer

1. Dr. No | 1962 | Monty Norman
2. From Russia with Love | 1963 | John Barry
3. Goldfinger | 1964 | John Barry
4. Thunderball | 1965 | John Barry
5. You Only Live Twice | 1967 | John Barry
6. On Her Majesty's Secret Service | 1969 | John Barry
7. Diamonds Are Forever | 1971 | John Barry
8. Live and Let Die | 1973 | George Martin
9. The Man with the Golden Gun | 1974 | John Barry
10. The Spy Who Loved Me | 1977 | Marvin Hamlisch
11. Moonraker | 1979 | John Barry
12. For Your Eyes Only | 1981 | Bill Conti
13. Octopussy | 1983 | John Barry
14. A View To a Kill | 1985 | John Barry
15. The Living Daylights | 1987 | John Barry
16. Licence to Kill | 1989 | Michael Kamen
17. GoldenEye | 1995 | Éric Serra
18. Tomorrow Never Dies | 1997 | David Arnold
19. The World Is Not Enough | 1999 | David Arnold
20. Die Another Day | 2002 | David Arnold
21. Casino Royale | 2006 | David Arnold
22. Quantum of Solace | 2008 | David Arnold
The History of James Bond Movie


No | Title | Actor | Year | Director

1. Dr. No | Sean Connery | 1962 | Terence Young
2. From Russia with Love | Sean Connery | 1963 | Terence Young
3. Goldfinger | Sean Connery | 1964 | Guy Hamilton
4. Thunderball | Sean Connery | 1965 | Terence Young
5. You Only Live Twice | Sean Connery | 1967 | Lewis Gilbert
6. On Her Majesty's Secret Service | George Lazenby | 1969 | Peter R. Hunt
7. Diamonds Are Forever | Sean Connery | 1971 | Guy Hamilton
8. Live and Let Die | Roger Moore | 1973 | Guy Hamilton
9. The Man with the Golden Gun | Roger Moore | 1974 | Guy Hamilton
10. The Spy Who Loved Me | Roger Moore | 1977 | Lewis Gilbert
11.Moonraker | Roger Moore | 1979 | Lewis Gilbert
12. For Your Eyes Only | Roger Moore | 1981 | John Glen
13. Octopussy | Roger Moore | 1983 | John Glen
14. A View to a Kill | Roger Moore | 1985 | John Glen
15. The Living Daylights | Timothy Dalton | 1987 | John Glen
16. Licence to Kill | Timothy Dalton | 1989 | John Glen
17. GoldenEye | Pierce Brosnan | 1995 | Martin Campbell
18. Tomorrow Never Dies | Pierce Brosnan | 1997 | Roger Spottiswoode
19. The World Is Not Enough | Pierce Brosnan | 1999 | Michael Apted
20 . Die Another Day | Pierce Brosnan | 2002 | Lee Tamahori
21. Casino Royale | Daniel Craig | 2006 | Martin Campbell
22. Quantum of Solace | Daniel Craig | 2008 | Marc Forster
sumber inspirasi
1
,
2
,
3
,
4
,
5
,
6
,
7
picture taken from
1
,
2
,
3